Push up bras can be an absolute game changer for your wardrobe. Sometimes it's the one item that can completely change your look, and they're much less expensive than a boob job! Push-up bras are available in all sorts of shapes and sizes to fit every body and your personal style. However finding the right one for your specific needs can be near impossible! So I've rounded up my picks for the top push up bras based on several specific needs. But first, let's talk about the difference between a regular bra and a push up bra.
Push-up bra vs. Regular bra- What's the difference?
The biggest difference is that a push-up bra generally has padded cups which help to make your breasts look bigger (although there are bras on our list which creates the push-up effect without padding). While many regular bras are meant for every day comfort, a push-up bra is meant to give you cleavage and lift your breasts up and together.
Here are the qualities I look for in a great push-up bra:
Comfort!
Well-fitting cups that are true to size
Adjustable shoulder straps
Not overly padded
Great cleavage/lift
Here are the bras which meet all those criteria, and what each bra is best for!
Everyday Pushup Bra Review
The Maidenform 'Love The Lift' Push-Up Bra is an excellent every day push-up bra. It gives you a natural-looking cleavage and has a sexy plunge neckline, but is also a very comfortable bra. It also has fully adjustable convertible shoulder straps, and is available in sizes A-D. This bra will definitely give you a great push-up look!!
According to the many positive reviews, it's clear that this bra has even outranked push-up bras by other famous brands such as Victoria's Secret. As it's very true to standard sizing, there will be no gapping between your breasts or over-the-cup spillage, which makes the bra suitable to wear under t-shirts and sweaters. The price point is also completely reasonable. This bra is comfortable, of high quality and more affordable than designer push-up bras.
Strapless Push-up Bra Reviews
It can be difficult to find a great strapless bra—especially a strapless push-up. One I love is the Calvin Klein Naked Glamour Strapless Push-Up Bra. Calvin Klein is known for making high quality garments that hold up over time. Therefore it's the perfect brand to take on the difficulty of creating a comfortable and effective strapless push-up bra.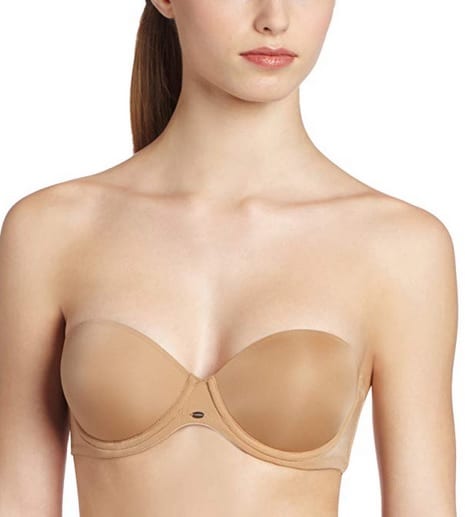 This bra has side boning for extra support, so you don't have to worry about it sliding down! It looks nice and natural, and fits snug and secure. Sizing can run small however, so make sure to check their sizing before ordering.
Push-up Bralettes
For ladies looking for cleavage and push-up without the hassle of underwires, there are several options. For those who want to splurge, one of the most popular push-up bralettes is the La Perla Non-Wired Push Up Bra.
[
It's a simple design, but it's luxurious and effective. The super smooth fabric lining makes for a classy look and keeps you comfortable. The bra is wire-free so you won't have any nasty wires digging into you throughout the day. The push-up effect may not be as dramatic as wired bras, but it does give some cleavage.
For bralette-lovers who want something a little more detailed; the Dobreva Floral Lace Wirefree Push Up Bralette might be what you're looking for.
This bralette comes with adjustable straps which can be used for racerback styles. It also has beautiful lace trim across the top of the cups, and can be simply pulled over your head which makes this bralette is perfect for all shapes and sizes.
Lace push-up bra
If you like more elegance and detail in your bras, you may be looking for a push-up bra with lace. Our top pick is the Li-Vy Bellflower Padded Bra
[https://int.li-vy.com/en_GB/650008604.html?cgid=push-up]
.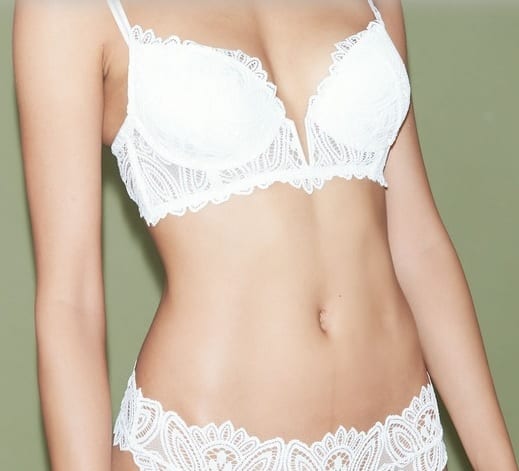 I consider this to be the best lace push-up bra because of its sexy and seductive design. I also love the deep plunging V. Also, with as beautiful as the bra is, this push up bra is actually very comfortable. It does have padding which can add almost one cup size.
Best Push-up Bras for Small Breasts
Women with smaller breasts are usually the biggest demographic for the push-up bra. Luckily there are many options available that can give your girls a boost no matter how small your cup size! I've've found two great options if you're in search of the best push-up bra for a smaller chest. First is the OnGossamer 'Mesh Bump It Up' Push-Up Bra which can add an entire extra cup size! The bra also has amazing reviews from smaller breasted women. It's also praised for it's comfy fit.
However, it should be noted that the material for this bra is synthetic—so if it's hot outside, it might be best to go for a lighter, more breathable cotton bra. Our other pick for push-up bras for small breasts is exactly that. It's the Calvin Klein Icon Push-Up Convertible Bra
This push-up bra is great for low cut shirts and dresses. Moreover, it comes with gel-based padding in the cups, which gives a more natural feel and keeps you cool. So, if you're looking for the best natural looking push-up bra—this is your go-to!
The Best Push-up Bra for Large Breasts
It's a common misconception that larger breasted women have no desire for push-up bras. For the best push-up bra for D cups and bigger I love Warner's 'This is Not a Bra' Full-Coverage Underwire Bra The gel-based padding in the cup gives a natural look and feel, while still comfortably enhancing the girls to new heights!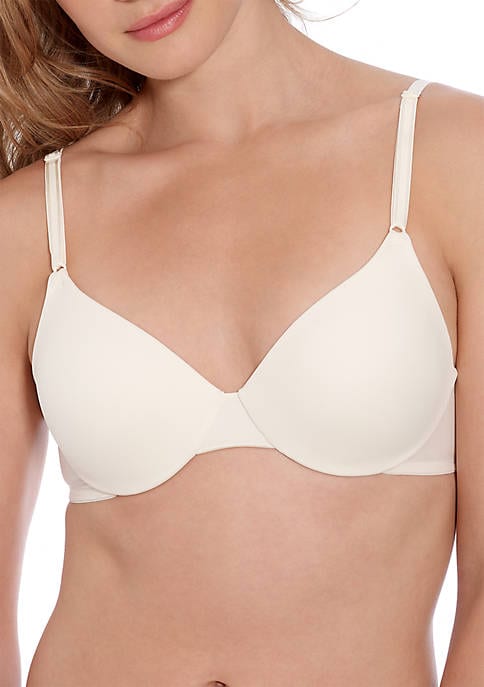 It has full coverage cups (to prevent spill-over) and adjustable shoulder straps. This prevents the bra from digging or poking into your skin. The bra also comes in a wide range of colors and patterns so you can find something that works for you no matter what your style. It's also machine washable! Comfy, durable, adjustable, machine-washable and well fitted. This bra was even voted "The Most Comfortable Bra" from New York Magazine.
The Best Push Up bra for Big and Small Breasts
While all the other bras I listed are great in certain ways, there is a push-up bra that works differently than the others and there are some significant benefits from that. It is the Upbra Bra . Its forte is cleavage and lift; with adjustable "cleavage-control" straps at the bottom of the bras which allow a woman to set her cleavage to her desired amount of lift (and/or cleavage). It gives a surprising amount of cleavage to small busts, and, interestingly, as big size breasts aren't usually in the market for extra cleavage, the Upbra bras change their edge at that point to provide lift to larger size breats. Quite a feat. They come in an everyday t-shirt style, as well as a strapless style that stays up all day owing to the way the inside of the bra prevents slippage. The Upbra bras are pricey but the reviews all rave that it's an investment that's fully worth the price tag. The Upbra is my pick for the most versatile push-up bra of them all.
I hope this list helps some of you on your quest for the perfect push-up bra! If you've tried any of these, or if your favorite wasn't listed here, leave me a comment and tell me your thoughts!